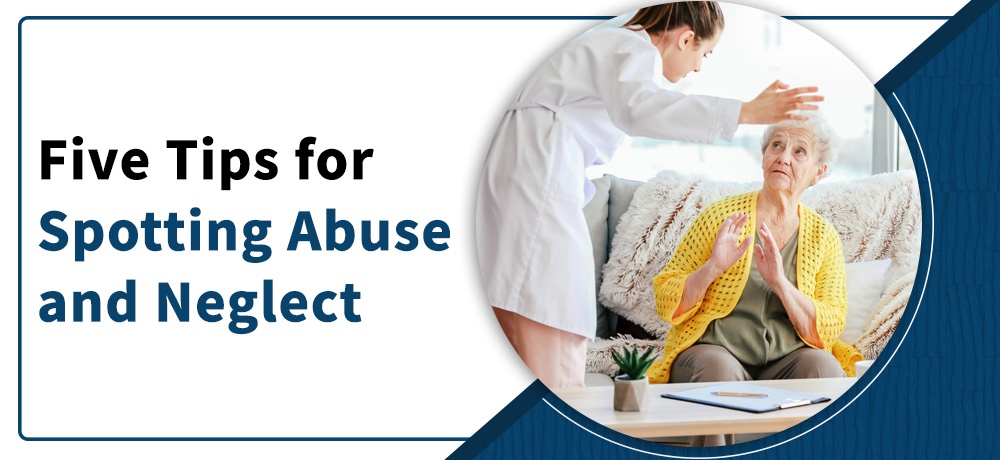 When a family makes the painful decision to move a loved one into a nursing home, they make their hearts strong with the belief that their loved one will be given the proper and professional medical and emotional help that they themselves could not provide.
Sadly, sometimes the medical or assisted nursing staff employed at a nursing home fails to provide the appropriate standard of care legally required to their patients. Even if they are qualified and responsible, a nursing home may be understaffed to the point where the caregivers are forced into a situation that is doomed to fail.
If you have the necessary knowledge you need to spot abuse and neglect, you will feel comfortable and confident enough to step in and do the needful. To help you take the necessary action, Churchill Huston Law, LLC has put together five tips for spotting nursing home abuse and neglect. The goal of this is to provide you with the knowledge needed to recognize the signs of nursing home abuse and neglect before your family member becomes a victim of this abuse and neglect that affects a number of people every year.
Tip #1: A change in behavior
"Mom just doesn't seem herself...."
When you visit or talk to your loved one in a nursing home or assisted living facility, trust your instincts. If your family member seems different or not their usual self, it can be a sign of something serious. Infection, dehydration, malnutrition, a traumatic brain injury, stroke, or even uncontrolled pain from bedsores or broken bones can cause an altered mental status. Often this is the first sign you have that something is wrong. Acting early is your best chance to prevent a more serious situation.
Tip #2: Trust what you smell
"It smells awful in here....."
If they can't keep the building clean, what chance do the residents have? Poor hygiene is not only a sign implying the resident is not being treated with the dignity and respect they deserve. It is also very dangerous. Poor hygiene can lead to bedsores and infections, including urinary tract infections. Moreover, urine and feces are damaging to the skin and contain harmful bacteria. These caustic substances are one of the primary forces which cause bedsores. Once a resident has a wound, the bacteria in urine and feces are an agent for infection, which leads to delayed healing or systemic infections like sepsis. Keeping residents clean is essential to good care and the overall wellbeing of the residents.
Tip #3: Trust what you see
"It's dirty in here and I see bugs and mice...."
It should go without saying that bugs and mice in a nursing home or assisted living facility is a recipe for disaster. Bugs and rodents can transmit disease. Frail and vulnerable people are placed at risk when time is not taken to clean and maintain a facility. Staffing shortages and decisions to under-budget a facility have serious and far-reaching consequences for the physical environment in which your loved one lives.
Tip #4: Weight loss
"Dad has lost a lot of weight...."
Weight loss can be the tip of the iceberg when it comes to abuse and neglect in nursing homes and assisted living facilities. Malnutrition and dehydration are dangerous conditions in and of themselves, but they also contribute to the development of bedsores, increase the risk of falls, make it more difficult to heal, and cause systemic damage to already vulnerable people. When a facility is under-staffed, it leads to dangerous shortcuts. For a resident who needs assistance eating, simply placing a tray in front of them and leaving is not enough. Without proper nutrition, your loved one is in danger.
Tip #5: Look for yourself
"Oh, your mom just has a little spot on her skin...."
Even if it's true, today's little spot is tomorrow's infected stage IV bedsore. It is vital that you ask to see skin breakdown, decubitus ulcers, little spots or whatever other gentle term they use for a bedsore. Bedsores can be fatal. If caught early, most wounds are treatable and reversible. Unfortunately, too often, a nursing home or assisted living facility will minimize the severity of a bedsore. Demand to see it yourself. Start taking pictures if you're concerned.
While these five tips will provide you with the knowledge to spot the early signs of neglect and abuse, the next step should be seeking the advice and help of an experienced nursing home neglect lawyer.
If you're looking for an experienced nursing home neglect lawyer in Philadelphia, PA, reach out to Churchill Huston Law LLC. My goal is to prevent this neglect and abuse from happening and improve the quality of nursing care for those in need. To do this, I want to make sure you are aware of the problem and how to handle the situation in case your family or relative is being subject to similar malpractices. I help clients with cases of nursing home neglect such as bedsores, unexplained injuries, infections, dehydration, malnutrition, abuse and neglect, choking and aspiration, over- medication, under-staffing, fractures, assault, etc.
If you are suspicious of neglect and abuse being inflicted on your loved one at their nursing home, you can trust in me to get them the justice they deserve. Get in touch with me by clicking here. To learn more about how I can help you, please click here.