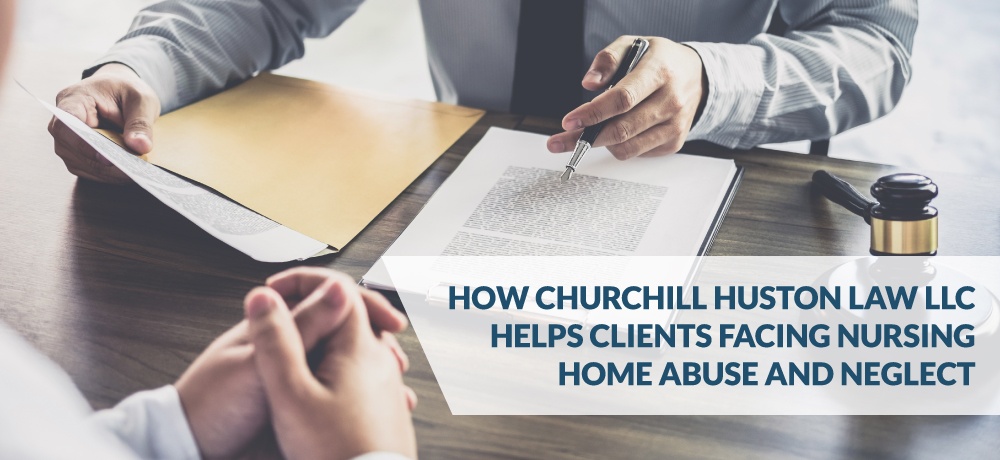 Deciding to put your loved one in a nursing home is a tough choice to make. However, caring for an elderly relative yourself becomes difficult when you have to work and see to the rest of the family. In addition, administering injections and other medication daily requires professional experience. In situations like these, seeking the services of a nursing home is vital to ensure your loved one gets the care and attention they need.
While people entrust their loved ones to a nursing home with the best intentions, there are many instances where these caregivers may neglect the person in their care, or hide their poor state of health to avoid questioning or lawsuits. Often, bedsores are downplayed leaving your dear ones helpless, in pain, and vulnerable to infections.
At Churchill Huston Law, LLC, my goal is to prevent this from happening and improve the quality of nursing care for those in need. To do this, I want to make sure you are aware of the problem and how to handle the situation in case your family or relative is being subject to similar malpractices.
Keep reading to learn about how my team and I help our clients discover bedsores on a relative.
The Challenge: Finding severe bedsores on loved ones in nursing homes.
Far too often I receive calls from family members who discover open wounds on the bodies of their loved ones when a resident is sent to an outside medical provider. Usually, the families are not informed of these bedsores, or the seriousness of the wounds are downplayed. Bedsores are a devastating and shocking sight. In addition, they pose a grave risk to the health and safety of the resident. Individuals who develop bedsores are at risk of pain, infection, and even death.
If you point out the sores, the negligent nursing home will try to delay giving you the medical records of your loved one. We have seen this happen and have a variety of means for addressing the issue from a simple phone call to filing complaints with the United States Department of Health and Human Services.
The Solution: Request an investigation.
The first step you need to take is to contact the Department of Health and gather medical records and conduct an investigation. In any instance, family members should contact the Department of Health to request an investigation. Whether or not a citation is issued, an investigation lets the nursing home know you are vigilant.
Next, we begin the process of gathering medical records from the nursing home and any other outside medical providers to commence investigating. It is common to discover from hospital records that a nursing home has downplayed the severity of, or even covered up the existence of a bedsore, which makes investigation vital.
Once the records are received, they are evaluated by an experienced attorney and appropriate expert witnesses because bedsores are about more than just pressure and exposure of the skin to urine and feces. The body requires sufficient nutrition to function properly and maintain the integrity of the skin. Too frequent weight loss and malnutrition are a harbinger of wounds to come. If you notice your loved one is always in bed or a recliner, is losing weight and is not receiving a bath or shower, be sure to demand the care they deserve and be on the lookout for bedsores on the bottom and heels.
The Bottom Line
It is your right to question a nursing home to know about the condition of your relative in their care. If you are unsure about pressing charges or whom to approach if you notice bedsores on your loved one's body, reach out to Churchill Huston Law LLC. As a successful nursing home neglect lawyer in Philadelphia, PA, I'm happy to seek justice for the defenseless. In 2010, I successfully held a Philadelphia area hospital and nursing home accountable for their wanton neglect of a patient which resulted in severe bedsores and infections. Moreover, the six-million-dollar verdict is the largest of its kind in Pennsylvania.
If you are suspicious of neglect and abuse being inflicted on your loved one at their nursing home, you can trust in me to get them the justice they deserve. Get in touch with me by clicking here. To learn more about how I can help you, please click here. To read about my previous cases, please click here.